FIVE FOR FREEDOM Comes to Busboys & Poets
September 6, 2018 @ 6:30 pm

-

8:00 pm

FREE
I'm pleased to be bringing the story of FIVE FOR FREEDOM: The African American Soldiers in John Brown's Army to Busboys & Poets' original location at 14th and V Streets NW, in the heart of DC's transformed lower 14th Street corridor–and also part of the burgeoning U Street Corridor. This event is co-sponsored by the Washington Independent Review of Books and Journal-isms.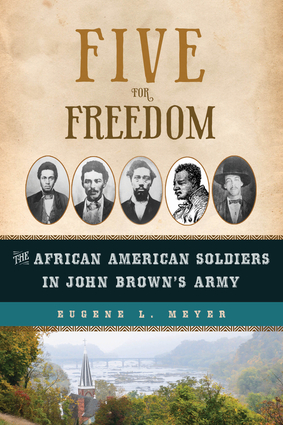 Fittingly, Busboys & Poets takes its name from American poet Langston Hughes, who worked as a busboy at the Wardman Park Hotel in the 1920s, prior to gaining recognition as a poet. Hughes' mother was the widow of Lewis Sheridan Leary, one of the five African Americans with John Brown at Harpers Ferry in 1859.  Leary was mortally wounded while attempting to escape across the Shenandoah River. His widow, Mary Patterson Leary, moved from Oberlin, Ohio, to Kansas, where she remarried to Charles Henry Langston and gave birth to a daughter, Caroline Mercer Langston, would become the mother of the future Harlem Renaissance poet and playwright.
On its website, Busboys & Poets provides this background:   "The First Busboys and Poets opened its doors on September 7, 2005, to a neighborhood – and city – eager to welcome a new kind of gathering place. Our flagship location at 14th & V Streets NW is located in the Langston Lofts, a residential building in Washington's historic 'U Street Corridor'. The U Street Corridor has long been a center of DC's cultural and activist scene with places like the Lincoln Theatre, Howard Theatre, Bens Chili Bowl, Bohemian Caverns and other historic clubs and venues serving as the hub for politics and artistry. Until the 1920's (when it was overtaken by Harlem), the U Street area was home to the largest urban African American community in the United States. In its cultural heyday, the U Street corridor was known as "Black Broadway", a phrase coined by jazz singer Pearl Bailey.
"In 1968, the assassination of the Rev. Martin Luther King Jr sparked rioting across many American cities. In Washington DC, the chaos began on the corner of 14th & U streets – as people smashed store windows, set buildings aflame and looted in outrage." In 2005, the first of what are now six Busboys & Poets locations opened just a block from ground zero of the 1968 riots in a neighborhood that has dramatically changed in the years since.